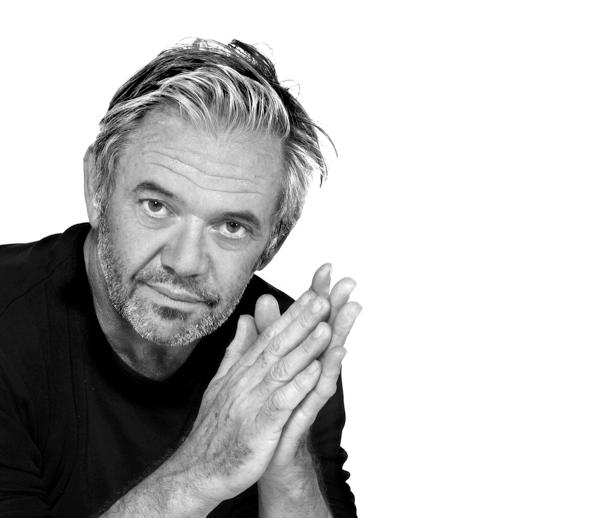 LIRE
Après un cursus d'art plastique et d'histoire de l'art à l'Université de Haute Bretagne à Rennes, Stéphane Plassier, précurseur d'une démarche transversale, s'implique dans tous les champs de la création, ses réalisations englobent un nombre infini de supports : mode, design, arts appliqués, arts plastiques, et architecture. La simplicité des formes, le travail de la couleur et l'humour fondent la singularité de son style. Si l'absence d'ornementation est souvent sa marque de fabrique, elle peut cependant laisser place au foisonnement. Passant de l'infiniment petit aux sculptures monumentales, tous les domaines le passionnent : vêtements, bagages, montres, mobilier, arts de la table, tapis, luminaires, décors… La maîtrise et la méthode qu'il acquiert auprès des manufactures le conduisent à la direction artistique d'entreprises du patrimoine vivant (EPV) pour lesquelles il conçoit des collections et des pièces uniques, passant de la fragilité de la porcelaine à la résistance du bronze.
La suite logique sera un travail de scénographe : statues éphémères sur la grand place de Bruxelles ou sur les arènes de Nîmes, « Scarf Dance » pour Hermes à New York, exposition Mariage au Musée Galliera, installation « Aids » au Palais de Tokyo, adaptation de Bérénice de Lambert Wilson au festival d'Avignon, Caravana Negra à l'Institut Français de Madrid puis à Buenos Aires.
Il ne lui reste qu'un pas à franchir pour concevoir des architectures, celle de la nouvelle aile du mythique hôtel Ousteau de Beaumanière aux Baux-de-Provence ou l'intérieur de l'école supérieure des arts décoratifs de Marrakech qui seront ses deux premières réalisations.
Son travail de plasticien trouvera écho dès ses débuts dans les collaborations avec des artistes majeurs, dont Sheila Hicks sera l'instigatrice. Depuis, il n'a cessé d'associer de nombreux artistes à ses travaux de la même façon qu'il y associe régulièrement les écoles d'arts.
L'idée d'investir un lieu pour y loger ses ateliers s'est imposée en 2002. Ce sera le Château des Sœurs, sa Gentilhommière et ses Hébergeages.
READ
After a degree in art and art history at Haute-Bretagne College in Rennes, Stephane Plassier, forerunner of a cross-disciplinary approach, is involved in all fields of creation. His achievements encompasses all medium: fashion, design, applied arts, plastic arts and architecture.
Simplicity in shapes, work on colours and humour are the base of his style's singularity. His hallmark is often the absence of ornamentations which can sometimes give place to profusion.
Going from infinitely small to gigantic sculptures, he is captivated by all: clothing, luggage, watches, furniture, culinary art, carpets, lamps, scenery,…
The mastery and methods acquired with factories lead him toward the artistic direction of living heritage companies for which he conceives collections and unique items, from the fragility of lace and porcelain to the toughness of bronze.
The logical development will be scenography: fleeting statues at the Grand Place in Brussels and the arena of Nîmes, "Scarf Dance" for Hermes In New York City, wedding for the Galliera museum, art installation "Aids" at the Palais de Tokyo, adaptation of Berenice for Lambert Wilson at the Festival d'Avignon, Caravana Negra at the French Institute of Madrid and then in Buenos Aires.
There is only a short step left to conceive architectures, such as the new wing of the mythical Ousteau de Beaumanière hotel in Baux de Provence or the interior of the superior school of visual arts of Marrakech which will be his first two pieces.
His work as a plastic artist will involve since its beginnings joint efforts with major artists, such as Sheila Hicks who will be the instigator. Since then, he hasn't ceased regularly associating numerous artists to his works as well as students from arts degrees.
The idea of having a place to accommodate his workshops was born in 2002. It is the Château des Sœurs, its Manor House and its Hébergeages.